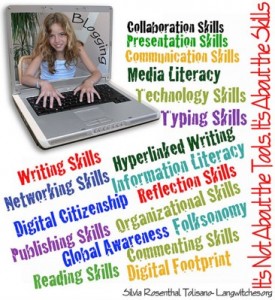 (Tolisano-Langwitches, Silvia. " Learning About Blogs FOR Your Students- Part II-B: Student Writing." Langwitches Silvia RosenthalTolisano, WordPress, 11 Dec. 2011, http://langwitches.org/blog/2011/12/11/learning-about-blogs-for-your-students-part-ii-b-student-writing/.)
"What is a Blog." YouTube, Edublogs, 19 May 2014, www.youtube.com/watch?v=oDxg5ODEXEQ&list=PLQCsl8AO_KPX1qfrk1ZKFXoD5hURrW0yX&index=1.
Hernandez, Andrea & Silvia Tolisano. "The Possibilities of Blogging." YouTube, uploaded by Andrea Hernandez, 8 Mar. 2013, www.youtube.com/watch?v=XHZzHjzw6Fs&index=4&list=PLQCsl8AO_KPX1qfrk1ZKFXoD5hURrW0yX
 "Leaving High Quality Blog Comments." YouTube, uploaded by Nicolas Weiss,  11 Mar. 2014,  www.youtube.com/watch?v=XgriSvP9HGo&list=PLQCsl8AO_KPX1qfrk1ZKFXoD5hURrW0yX&index=3.
Silvia Tolisano-Langwitches has some great things to say on this topic.  Basically, the three biggest reasons people may have an aversion to blogging are:
 They believe they have nothing interesting to say
 They believe they are not good writers or don't like writing.
 They believe they don't have time.
She cleverly responds to each of these issues.  Although she is addressing educators, her message applies to you, too.  To read her rebuttals for each of these concerns, read http://langwitches.org/blog/2011/11/26/learning-about-blogs-for-your-students-part-ii-writing/
and watch this video: